Legislative information for Dangerous Goods Identification.
​
The Australian Dangerous Goods Code sets out the technical requirements for transporting dangerous goods by road or rail.
It is important that everyone involved in transporting dangerous goods understands their responsibilities to help prevent accidents or damage to people, property and the environment.
A copy of the latest Australian Dangerous Goods code can be downloaded from the National Transport Commision by clicking here.
​
Label Makers manufacture and stock a wide range of dangerous goods labels, class labels, class diamonds and hazchem labels and placards specifically for the labelling and identification of Hazardous and Dangerous Goods. We stock a range of DG Label designs including;
​
Flammable Liquid Labels

Explosive Labels

Corrosive Labels

Oxidizing Agent Labels

Flammable Gas Labels

Toxic Labels

Non-Flammable Non Toxic Gas Labels
​
We have many more dangerous goods placards and labels on our shelves so please call us today with your class label and placard requirement. Dangerous goods labels can normally be despatched same day if ordered before 11am. Credit card payments accepted at no extra charge.
We manufacture dangerous goods labels in a wide range of sizes from 20mm diamonds up to 250mm diamond placards. We can supply small to large quantities and most of the standard range comes straight off the shelf for despatch same day.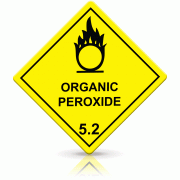 Market leading premium quality dangerous goods labels, dangerous goods placards, class diamonds, hazardous goods and chemical labels - supplied Australia wide
Class labels examples
Below are some examples of some of the dangerous goods labels, class diamonds, and placard designs we carry in stock. We carry too many to picture and mention, so if you can't see what you're looking for contact us, we will more than likely have it, or if not we will make it, pronto!!
Our high quality class labels and dangerous goods labels are printed on carefully selected materials and printed using special high light-resistant UV inks. We produce class labels on vinyl or paper dependant on the application requirement. The colours we use use on our dangerous goods labels are largely dictated by legislation and the Australian dangerous goods standard AS 1216. 2006.
Please note: The sample images shown here are for illustrative purposes only and may not be a true representation, as class labels are subject to legislative changes periodically. Label Makers ensure that all of its class label artwork is current and complies with the relevant legislation at your time of purchase.